As a reminder, more changes are coming to Post Road Village in Apponaug next week. Motorists are advised to use Veterans Memorial Drive when traveling to T.F. Green Airport, West Shore Road and other destinations east of the project. This will help alleviate delays or any extra congestion.
Apponaug Circulator, Warwick
Our existing traffic pattern remains at Apponaug Four Corners (Post Road at Centerville Road and Greenwich Avenue) while we work on the center roundabout area. Motorists are required to navigate through the area around traffic barrels as a phase in the roundabout development. Please stay to the right of the barrels.
Route 117 (Centerville Road), east of Meadow Street to Post Road, remains closed to through traffic for construction until the final traffic configuration is implemented. Local traffic access is maintained to businesses. Please note: lane shifts for construction including bridge rehabilitation are possible weekdays from 6 a.m. to 4:30 p.m.
We will continue to have one eastbound lane and shoulders closed for pavement removal and grading of the roadway surface and decorative lighting installation work, at Post Road Village, from Apponaug Four Corners to Spruce Street, weekdays from 6 a.m. to 4:30 p.m. Parking may also be impacted within the construction zone. Note that there will be a gravel borrow driving surface before the new pavement is placed, in conjunction with one lane available for travel around the clock. Expect delays and seek alternate routes if possible. We also plan to landscape project-wide.
Division Street Bridge, Pawtucket
Masonry improvements continue with a lane shift in effect on Taft Street under the Division Street Bridge.
Hamlet Avenue Bridge, Woonsocket
We will continue to shore, jack and make repairs to the northwest bridge support. Lane shifts are possible during daytime hours.
Newman Avenue Bridge, East Providence
The established traffic pattern of alternating one-way traffic with a left lane closure on Route 152 from the Massachusetts state line to Barney Street in East Providence continues next week as we work on the newly installed precast bridge deck.
Old Sakonnet River Bridge Superstructure Demolition, Tiverton/Portsmouth
Next week, we will install under-deck debris netting in the main span. On Monday, we will move the channel marker buoys to close the east half of the navigation channel. Boat traffic will be diverted to the west half of the channel while work crews install netting overhead. Police boats will be on site to aid with boat traffic through the work zone.
Bridge deck removal has been pushed back another week and is set to begin on Monday, July 31.
Pawtucket Avenue Bridge, East Providence
Over the past week, we continued installation of the new center median and lighting foundations. Next week, we will seal the newly installed concrete median barrier. We will have lane closures, including the left and center lanes, on I-195 East and West, from Exit 6 (Route 103/Broadway) to Exit 8 (Route 6), Sunday-Thursday nights from 9 p.m. to 5 a.m. the following day.
Pleasant Valley Parkway Bridge, Providence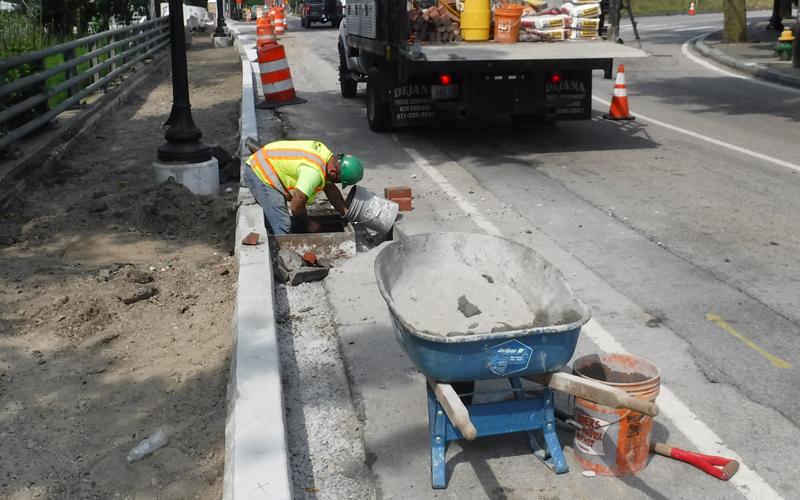 Granite curb installation is ongoing project-wide, along with cold planing, or asphalt milling, on the roads associated with the detour, including Kinsley Avenue, Dean and Promenade Streets, Providence Place and Pleasant Valley Parkway. Approximately two inches of the existing pavement surface on those roads is being removed and later replaced with two inches of new asphalt.
During bridge and road reconstruction, lane closures and intermittent traffic stoppages are possible on Promenade Street at Pleasant Valley Parkway, and on Dean Street and Kinsley Avenue, weekdays from 8:30 a.m. to 4 p.m. During that same time period, the lane from Kinsley Avenue to Providence Place may be closed. Traffic should follow the detour from Dean Street (south) to West Exchange Street to Sabin Street, back to West Exchange Street and then to Dean Street (north).
Providence River Pedestrian Bridge, Providence
This week timber piles were installed for the new boardwalk and boardwalk abutments along the east river bank. The east abutment back wall was also cast. Forming of the new concrete piers continues.
Next week two of the new concrete piers will be cast. This work is scheduled for Tuesday and will include a closure of the waterway between the western most piers. Boat traffic should use the eastern channels during this time. In addition to pier work, granite capstones along the new river walls will be installed, and we will demolish the old concrete walls along the east river bank.
Routes 102 and 117 Roundabout, Coventry
The lane shift remains in place at the intersection of Routes 102 and 117, with alternating lane closures possible, weekdays from 7 a.m. to 4 p.m. We are continuing advanced utility work and placement of erosion control measures, as well as installing new drainage structures while cleaning and flushing existing pipes.
Route 44 Roundabout, Glocester
There will be a right shoulder closure on Route 44 at its intersection with Route 100, weekdays from 7 a.m. to 3:30 p.m. During this time, we will pave the temporary road in the roundabout, and we will have utility line relocation within the project limits.
Route 138 (East Main Road) ADA Improvements, Portsmouth
We are planning left and right shoulder closures on East Main Road from Turnpike Avenue to Sprague Street, weekdays from 7 a.m. to 3:30 p.m., as we continue to install sidewalks and set curbing.
Slaterville Stone Arch Bridge, North Smithfield
This week, we will excavate for the construction of the stone retaining walls adjacent to the bridge. There will be alternating one-way traffic on Route 5 (Providence Pike), from Church Street to North Main Street, weekdays from 7 a.m. to 4:30 p.m. We are rehabilitating this bridge, which dates back to 1855, restoring and reinforcing the existing stone arches, and making upgrades to portions of Main Street and Route 5.
Smith Street Resurfacing Improvements, Providence
Our work placing curbing and sidewalks and replacing driveways on Smith Street, from Lyndhurst Avenue to Chalkstone Avenue, continues next week, weekdays from 7 a.m. to 3 p.m. The work will have no impact on the travel lanes, though parking is prohibited in the work zone and pedestrians will be directed to walk on the opposite side of the street.
Tefft Hill Trail Bridge, Exeter
Under the I-95 Southbound bridge, we have placed fill around the structure, working towards covering the top of the archway. Temporary pavement widening preparations continue along the I-95 South shoulder. We may place asphalt and additional temporary barriers if schedules permit. Please watch for construction vehicles entering and exiting along the I-95 South median, daily between 7 a.m. and 4 p.m.