The first of several lane splits on I-95 in Providence are scheduled for Friday night, July 19 as part of the Oxford Street Bridge project. Get the latest information here.
Baker Pines Bridge, Richmond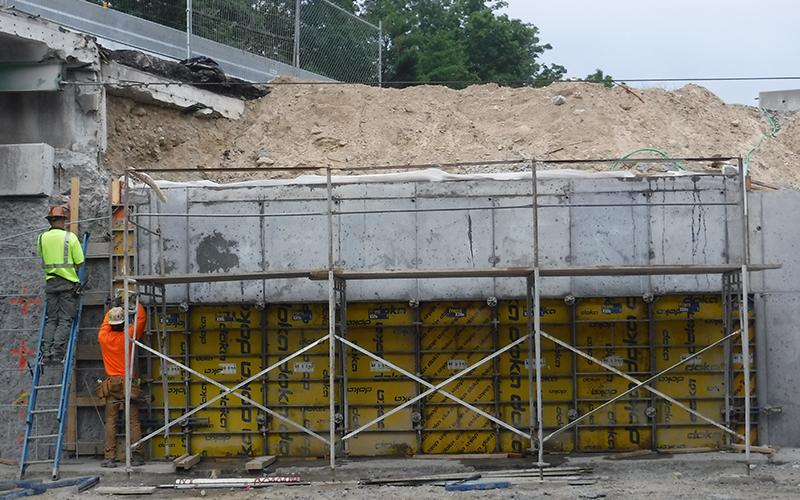 Work continues weekdays from 7 a.m. to 3:30 p.m. within the shoulders along Route 3 under the bridge. Early in the week, motorists may experience slight delays as we move a crane in and out of the work zone to set precast concrete pieces for the new abutment walls.
Carolina Bridges, Charlestown/Richmond
Rebar and form installation at one bridge and superstructure removal at another bridge, Monday-Friday from 6 a.m. to 3 p.m. The 24-hour-per-day alternating one-way traffic pattern remains along Route 112 North and South, from Butter Lane to Carolina Mill Lane.
Diamond Hill Road Improvements, Cumberland
Alternating lane closures are scheduled for drainage and electrical work on the south side of the project along Diamond Hill Road, from the I-295 North off-ramp to Angell Road, Sunday-Thursday nights from 7:30 p.m. to 4:30 a.m.
Gano Street Improvements, Providence
A temporary detour is in place while we reconstruct the intersection of Gano Street and India Street. We have alternating one-way traffic on Gano Street, from India Street to Trenton Street, Monday-Friday from 9 a.m. to 3 p.m. for sidewalk and curb installation and shared used path construction on the East side of Gano Street.
Nayatt Road Improvements, Barrington
Alternating lane closures are planned for preparation work Monday and Tuesday, followed by a full road closure for milling, Wednesday through Friday from 7 a.m. to 3:30 p.m. on Nayatt Road, from Rumstick Road to Bay Road. Please follow signed detour.
Oxford Street Bridge, Providence
We will continue building the East wall and paving behind barrier along I-95 at the bridge Monday-Friday from 7 a.m. to 3:30 p.m.
The weekend of July 19, lane splits are scheduled to be implemented on I-95 North and South from Exits 18-19 overnight from 7:30 p.m. to 6 a.m. These splits should change about every week, as we install new bridge deck sections one lane at a time.
On Friday night, July 19, we will split traffic on I-95 North, with three lanes to the left and one to the right. We will also close the on-ramp from Thurbers Avenue to I-95 North. On Saturday night, July 20, we will split traffic on I-95 South, with four lanes to the left and one to the right. Exit 18 off I-95 South will also be closed during demolition. Noise is anticipated.
Pound Hill Road Bridge, North Smithfield
Work continues behind barrier along Route 146 at the bridge with no lane closures. We will pave the shoulders, install cable guardrail, and perform underdeck masonry repairs, Monday-Friday from 6 a.m. to 4 p.m.
Route 6/10 Interchange Reconstruction, Providence
With the completion of the steel beam installations at the Broadway Bridge, utility work and steel installation will start at the Westminster Street Bridge. These activities will require a periodic right lane closure on Route 10 South, from the 6/10 split to Westminster Street, Monday-Friday from 6 a.m. to 2 p.m.
Victory Highway Bridge, West Greenwich