Work at the 6/10 Interchange is progressing with some new traffic patterns in place. Get the latest here [r20.rs6.net].
Carolina Bridges, Charlestown/Richmond

<![if !supportLineBreakNewLine]>
<![endif]>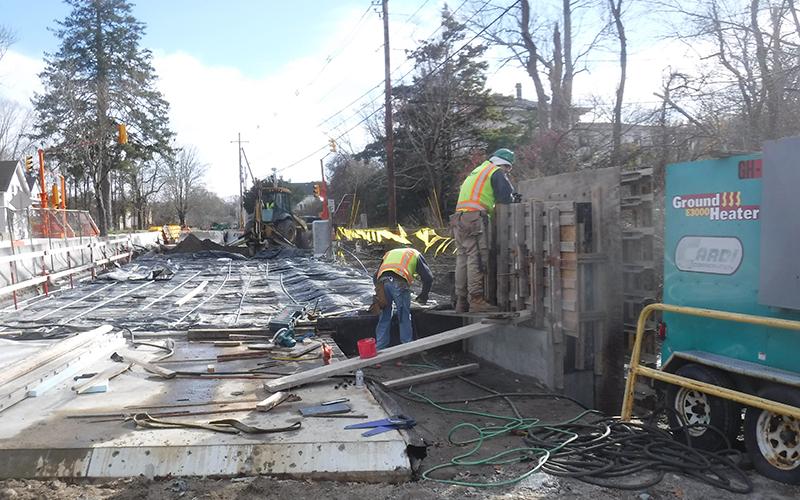 The 24-hour alternating one-way traffic pattern remains along Route 112 North and South, from Butter Lane to Carolina Mill Lane as we install reinforcing steel and place concrete at the end posts, and install sidewalks and curbing.
Diamond Hill Road, Cumberland
We will reclaim (grind) and pave Diamond Hill Road North and South, from Industrial Road to I-295, with partial lane closures, Friday night, November 16 and Sunday-Tuesday nights from 6 p.m. to 6 a.m. Delays anticipated.
I-195 Corridor Bridges, East Providence and Providence
The bridge deck has been poured, covered and is wet curing, rail post supports are being installed, and the curbing and drainage work is ongoing at the Parkway Ramp Bridge. If the weather cooperates, we'll pave the deck of the closed Lyon Avenue Bridge the first week in December. We've poured and blanketed the approaches to protect them from the weather at the Blackstone Street Bridge, and have started the on-ramp reconfiguration at the Warren Avenue ramp to the Parkway Ramp Bridge.
Nayatt Road Improvements, Barrington
We are scheduled to finish paving the closed Nayatt Road East and West, from Middle Highway to Bay Road, Saturday from 7 a.m. to 3:30 p.m. During the week, we will do drainage work from Washington Road to Bay Road, Monday-Wednesday and Friday from 7 a.m. to 3:30 p.m.
Pedestrian and Intersection Improvements, Tiverton/Little Compton
Alternating one-way traffic remains at the intersection of Fish Road and Route 177 (Bulgarmarsh Road) in Tiverton, Monday and Tuesday from 9 a.m. to 3 p.m. and Wednesday from 9 a.m. to 1 p.m. We have completed conduit installation. We continue to work on the dry swale, which is a shallow, linear channel to handle storm water runoff, signal work and sidewalk and handicap improvements. On Route 177 (Main Road) at #1791 and Main Street at Old Harbor Road in Little Compton, we are focusing on handicap ramp installation.
Route 6/10 Interchange Reconstruction, Providence
Construction activities taking place behind barrier at the 6/10 Interchange include installation of a new bridge pier at the new Broadway bridge. We'll have a left lane closure on Route 6 West, from Route 10 to the Glendale Pedestrian Bridge, Monday-Wednesday from 9 a.m. to 2 p.m. The Broadway exit off Route 6 East is now closed, with traffic utilizing a detour via Hartford Avenue through Olneyville Square. Others are following a temporary section of Route 10 North to a new, temporary exit to Westminster Street. We also have traffic shifts on Route 6 West, and new traffic patterns on Westminster Street and Broadway.
Route 138 (East Main Road) ADA Improvements, Portsmouth
On Saturday from 7 a.m. to 3:30 p.m., we're scheduled to pave Park Avenue, from Narragansett Avenue to East Main Road, with a goal of reopening it the following week. On Monday-Wednesday from 7 a.m. to 3:30 p.m., we'll be doing utility work and sign installation along Route 138 East and West, with shoulder closures from Boyds Lane to Turnpike Avenue.
Victory Highway Bridge, West Greenwich
We are scheduled to form parapet walls and end posts and install curb and underground utilities behind barrier along Route 102.
Woonsocket Hill Road Bridge, North Smithfield
Alternating lane closures on Route 146 North and South, from the Woonsocket Hill Road Bridge to the Pound Hill Road Bridge, to remove overhang brackets and platforms at the Woonsocket Hill Road Bridge are planned Sunday-Tuesday nights from 7 p.m. to 6 a.m. We are also scheduled to waterproof the bridge deck behind barrier at the Pound Hill Road Bridge.