As part of ongoing repairs to the Washington Bridge Westbound, Exit 3 (Gano Street) off I-195 West will close on Monday, August 20 and not reopen until Fall 2019. Other traffic changes will also be coming in the near future. Read more here.
Carolina Bridges, Charlestown/Richmond
Demolition continues at the center pier of one of the bridges. We will also grout the deck joints and form the sidewalk at another.
Diamond Hill Road, Cumberland
A project to install roundabouts on Diamond Hill Road at I-295 North and I-295 South and make intersection improvements on Diamond Hill Road, from Angell Road to Industrial Road, and at Bear Hill Road and Angell Road has started.
We have installed temporary construction signs and cut back some trees to prepare for roadway widening. Next week, we have some drainage and survey work, in addition to more roadside clearing. Operations will be ongoing weekdays from 9 a.m. to 3 p.m. No lane closures are anticipated at this stage of construction.
I-195 Corridor Bridges Project, East Providence and Providence
Plans are to install steel girders at the Parkway Ramp Bridge next month once they're fabricated and received. We're constructing the back walls, sidewalks and approaches at the Purchase Street Bridge, plus repairing the pier columns at the Blackstone Street Bridge.
Old Sakonnet River Bridge Superstructure Demolition, Tiverton/Portsmouth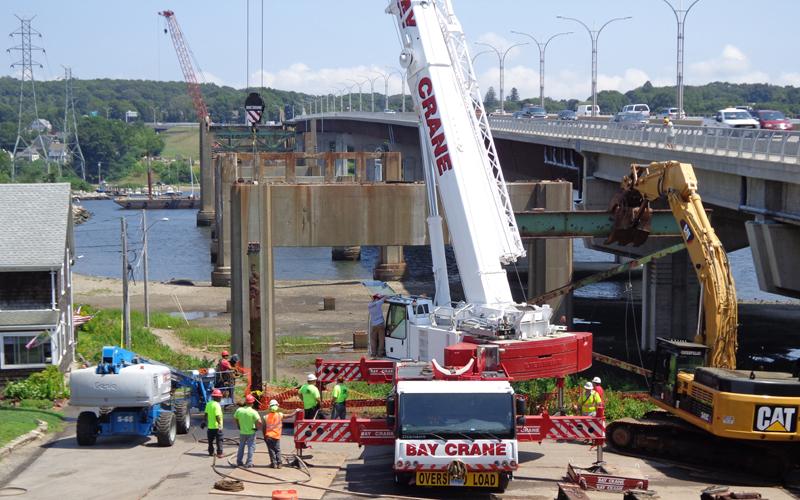 We will remove structural steel from two spans at one of the piers from barges. Although barge placement will require the closure of a portion of the channel on the bridge's western side, passage under the bridge itself will be permitted at all times.
Providence River Pedestrian Bridge, Providence
Next week, we will install lights and wood decking and build planter walls.
Route 138 (East Main Road) ADA Improvements, Portsmouth
Victory Highway Bridge, West Greenwich
Working Tuesday-Friday from 7 a.m. to 3:30 p.m., we will form backwalls, complete structural steel bolting, and install underground utility conduit behind barrier on Route 102.
Washington Bridge Westbound, East Providence/Providence
Construction continues on the temporary on-ramp for access to I-195 West from Taunton Avenue/Route 44 during Phase 1 of the Washington Bridge Westbound repairs. The ramp is scheduled to open Monday, August 20 and will remain in place until June 2019 when Phase 2 repairs begin.
The lane shifts to the left on I-195 West, from the Purchase Street overpass to the Taunton Avenue on-ramp, are complete for Phase 1 repair work. The remaining lane shifts, from the Taunton Avenue on-ramp, across the bridge to the Gano Street on-ramp, will be completed on Monday, August 20.
On Monday, August 20, Phase 1 bridge repairs will start and run until June 2019. During Phase 1 repairs, the Gano Street off-ramp (Exit 3) will be closed. The Gano Street off-ramp will also remain closed during Phase 2 repairs, from June 2019 to October 2019. The recommended detour for the Gano Street off-ramp will be to use Exit 2, to Pike Street, to South Water Street and then to India Street to return to Gano Street.
Woonsocket Hill Road Bridge, North Smithfield
No lane closures are anticipated as we install rebar and form the bridge deck at the Woonsocket Hill Road Bridge.