Learn more about our upcoming Route 4 lane closures at the Lafayette Road Bridge the weekend of September 27.
Baker Pines Bridge, Richmond
We will work on the new median barrier on the bridge deck and may place concrete later in the week. Under the bridge on Route 3, we'll install minor steel bracing within the shoulder areas, Monday-Friday from 7 a.m. to 3:30 p.m.
Carolina Bridges, Charlestown/Richmond
We are scheduled to install reinforced steel rebar at one bridge and do demolition work at two other bridges being replaced in this project, Monday-Friday from 6:30 a.m. to 4 p.m. A temporary traffic signal remains in place with a one-way alternating traffic pattern on Route 112, from Carolina Mill Lane to Butter Lane.
Centerville Road and Toll Gate Road Bridges, Warwick
We've been building new bridges that we will ultimately move into place to carry I-95 over Centerville and Toll Gate roads in Warwick. On Tuesday and Wednesday nights from 7 p.m. to 6 a.m., we're scheduled to close the left lane on both sides of I-95, from I-295 to the Cowesett Road overpass, as we pave the median area. Monday-Friday from 7 a.m. to 3:30 p.m., the right shoulder will be closed for bridge work on Route 117 (Centerville Road) West, from Orchard Avenue to Commonwealth Avenue, and on Route 115 (Toll Gate Road) West, from Orchard Avenue to Leon Whipple Road.
Diamond Hill Road Improvements, Cumberland
On Tuesday night, the second of two roundabouts at the Route 114/I-295 interchange will be partially opened. No traffic impacts are anticipated. Prior to the morning commute on Wednesday, all traffic on Diamond Hill Road from the I-295 on- and off-ramps will flow to the right, as it does in all roundabouts. Those heading toward the Chapel Four Corners area should use the inner or left lane and drive around the roundabout. Traffic coming off the highway and bound for points north, toward Broadview Avenue and Industrial Road, can use the right lane at the end of the exit. Monday-Friday from 9 a.m. to 3 p.m., expect alternating lane closures for drainage work on Diamond Hill Road, from Industrial Road to Angel Road.
Gano Street Improvements, Providence
Alternating one-way traffic is planned for sidewalk work along Gano Street, from India Street to Trenton Street, Monday-Friday from 9 a.m. to 3 p.m.
Kingston Road Bridge, Richmond
Lane shifts remain along Route 138 just before and after the bridge. We are scheduled to prepare the area for underground utilities and drainage pipes, Monday-Friday from 7 a.m. to 3:30 p.m.
Lafayette Road Bridge, North Kingstown
For the installation of the bridge deck for the new northbound Lafayette Road Bridge, we need to close Lafayette Road, Monday-Friday from 7 a.m. to 3 p.m. On Friday night, September 27 at 8 p.m., we're scheduled to close the left lane on Route 4 South to install barrier and implement a traffic shift of Route 4 North traffic to the southbound bridge. Once the shift has been implemented, we will remove and replace the northbound bridge. This lane and road closure of Lafayette Road will continue through Monday morning, September 30 at 6 a.m.
Oxford Street Bridge, Providence
Next week, we're scheduled to pave I-95 South, from Exit 19 to Exit 18, Sunday-Thursday nights from 8 p.m. to 6 a.m. This will involve alternating lane closures on both sides of the highway for paving and other related activities, and the closure of Exit 18 off I-95 South or the on-ramp from Thurbers Avenue to I-95 North. Expect delays.
Pound Hill Road Bridge, North Smithfield
We'll continue with slope work under the bridges as well as paving. These operations will require alternating lane closures on Route 146, from the Woonsocket Hill Road Bridge to the Forestdale Bridge, Sunday-Thursday nights from 7 p.m. to 6 a.m.
Route 6/10 Interchange Reconstruction, Providence
We need to close the left lane on Route 10 South, from Tobey Street to Union Avenue, as we build retaining walls for the Route 10 North to Route 6 West flyover ramp and concrete piers for the Route 6 Viaduct, Monday-Friday from 7 a.m. to 2 p.m. We will also close the left lane on Route 6 East at the Hartford Avenue interchange to pour the Hartford Avenue Bridge deck, Tuesday-Friday from 10 a.m. to 1 p.m.
Victory Highway Bridge, West Greenwich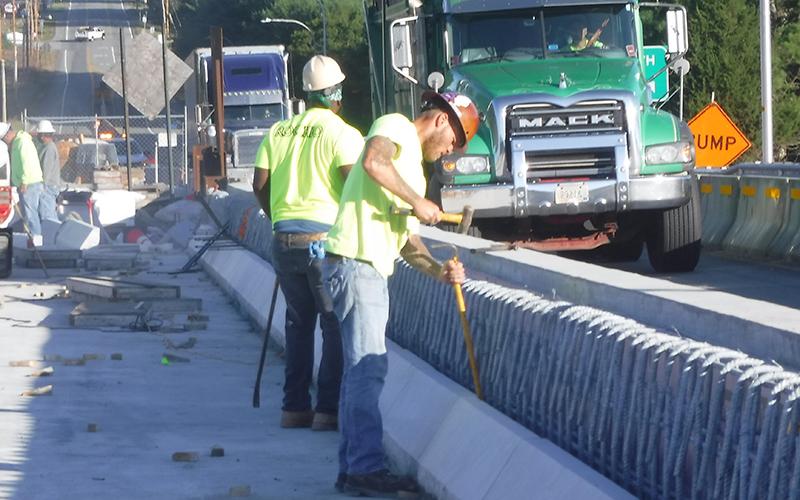 Monday-Friday from 9 a.m. to 2 p.m., the far-right lane will be closed on I-95 North, from Exits 5A to 5B, as we grade prior to paving the concrete slope under the bridge.