Starting late this fall, we'll be making changes to the exit signage on I-295, from Warwick to the Massachusetts state line. This effort will put Rhode Island in line with the majority of the country following federal requirements to have exit numbers based on mile markers instead of using sequential numbers like we do now. We'll be sharing information on this well in advance, and the signs will bear both the new and old exit numbers for a period of time as people adjust to the change.
Apponaug Circulator, Warwick
Lane shifts are scheduled for crosswalk and sidewalk installation at Apponaug Four Corners, from Veterans Memorial Drive to Post Road, and at Post Road Village, from Greenwich Avenue to West Shore Road, and on Post Road South, from Apponaug Four Corners to Water Street, for other activities, weekdays from 6 a.m. to 4:30 p.m.
Route 117 (Centerville Road), east of Meadow Street to Post Road, including the bridge, remains closed to through traffic for bridge work until the final traffic configuration is implemented. Access will be maintained to the businesses. The ongoing traffic pattern continues at Apponaug Four Corners (Post Road at Centerville Road and Greenwich Avenue.)
Division Street Bridge, Pawtucket
Division Street East over the Division Street Bridge, from Pleasant Street to Water Street, will be closed for sidewalk work Monday and Tuesday from 9 a.m. to 3 p.m. Westbound travel is not restricted. Local traffic is being detoured via Main Street and School Street, with an advanced detour available on I-95 North at Exit 28 (School Street.) A lane shift on Taft Street under the bridge remains for masonry work.
Newman Avenue Bridge, East Providence
Bridge work continues with a one-way alternating traffic pattern on Route 152 (Newman Avenue) from the Massachusetts state line to Barney Street. Crews will work Saturday and weekdays from 6 a.m. to 5 p.m.
Old Sakonnet River Bridge Superstructure Demolition, Tiverton/Portsmouth
Removal of the concrete bridge deck from the east to the west continues.
Providence River Pedestrian Bridge, Providence
Concrete was placed at the new piers as well as at the new boardwalk abutments, and the bluestone tile installation on the west abutment is nearly complete.
Next week, modular wall and shoreline work will continue and granite capstones installed.
Route 102 and 117 Roundabout, Coventry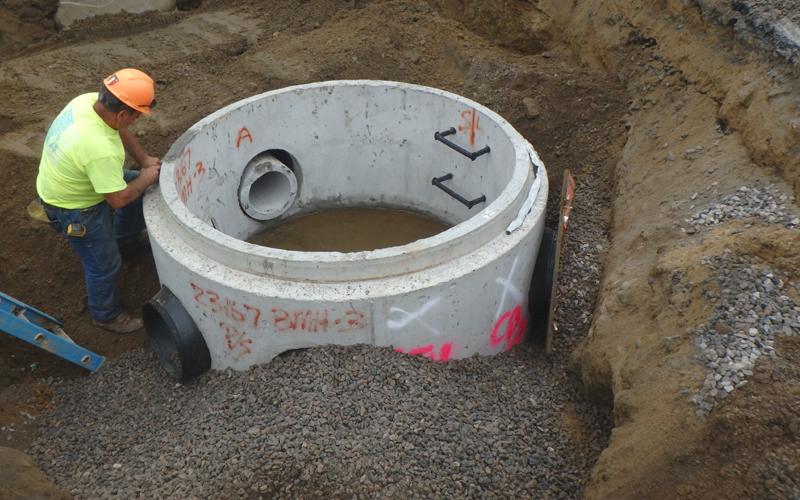 Lane shift remains in place at the intersection of Routes 102 and 117, with alternating lane closures possible for drainage and utility work, weekdays from 7 a.m. to 4 p.m.
Route 44 Roundabout, Glocester
Roundabout build up and installation requires a right shoulder closure on Route 44 East and West at Route 100 weekdays from 7 a.m. to 3:30 p.m.
Route 138 (East Main Road) ADA Improvements, Portsmouth
One lane of alternating traffic with shoulder closures remains on Route 138, from Turnpike Avenue to Park Avenue, weekdays from 7 a.m. to 3:30 p.m. for curb and sidewalk work.
Slatersville Stone Arch Bridge, North Smithfield
Stone wall reconstruction and water main installation requires alternating one-way traffic on Route 5 (Providence Pike) North and South, from Church Street to North Main Street, weekdays from 6:30 a.m. to 4:30 p.m.
Smith Street Resurfacing Improvements, Providence
Curb, sidewalk and driveway placement continues on Smith Street, from Chalkstone Avenue to Holden Street, weekdays from 7 a.m. to 3 p.m. We also plan to remove brick paver crosswalks from Oakland Avenue to Holden Street. The work will have no impact on the travel lanes, though parking is prohibited in the work zone and pedestrians should use the opposite side of the street.
South Main Street/North Main Street ADA Improvements, Providence
We are scheduled to do drainage and utility work, while also constructing wheelchair ramps, with lane closures anticipated along South Main Street and North Main Street, from Planet Street to Elizabeth Street, weekdays from 7 a.m. to 4 p.m.
Tefft Hill Trail Bridge, Exeter
Backfilling and asphalt placement over the I-95 South archway will finish along with new guardrail inside the temporary barrier. Weather permitting, we'll remove the lane shift on I-95 South to restore the lanes to their normal alignment on Wednesday or Thursday night. Temporary barrier will remain along the I-95 South median side edge of pavement while other work in the median area continues. Please remain cautious for construction vehicles entering and exiting the work zone.